Webster Ghana Selected as Tertiary Partner for Social Media Accra 2019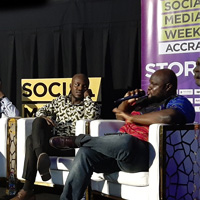 The third quarter of 2019 ended with Webster University Ghana involved in the Accra edition of the renowned global Social Media Week (SMW) as Tertiary Partner. Social Media Week is one of the world's leading conferences for media, marketing and technology professionals, and this year was centered around the theme "Stories."
The partnership highlighted the Media Communications department at the Ghana campus, bringing awareness to faculty, academic offerings and how studying media leads to great career prospects in the always illustrious and evolving communications industry. The Webster Ghana campus director, Christa Sanders, and the director of marketing, Awoyaa Mensah attended the launch, where the CEO of the organizing company for SMW Accra 2019 touched on why he found it imperative to secure Webster University Ghana to be involved in this year's event.

"There isn't another higher education institution in Ghana that aligns itself to the mission of global citizenry, and that is everything that the Social Media brand is about," said the CEO. "Webster Ghana's Media Communications department is modern, in tune with the times and allowed us to approach our audience with an academic take on a subject and vehicle that is hardly just about nice pictures and catchy captions anymore."
Inside Social Media Week
Programs included three days of Master level classes for students and open to the public. Topics included screenwriting and documentary filmmaking both facilitated in the classrooms at the Webster Ghana campus. The program provided exposure for the surrounding community. Webster faculty was involved in several main events held in the cinema hall at Accra Mall, alongside other media professionals in the topic areas. Lecturer Kobby Ankomah-Graham was a panel participant in "Greetings from Abroad: What is the Ghanaian Narrative." Ankomah-Graham contributed much insight including the important of Ghanaians telling their own stories and incorporating history and folklore so that the world is fed the truth, and so their past and culture continues. He encouraged guests to utilize the power of social media and very available technology to capture and share the rich texture of Ghanaian life.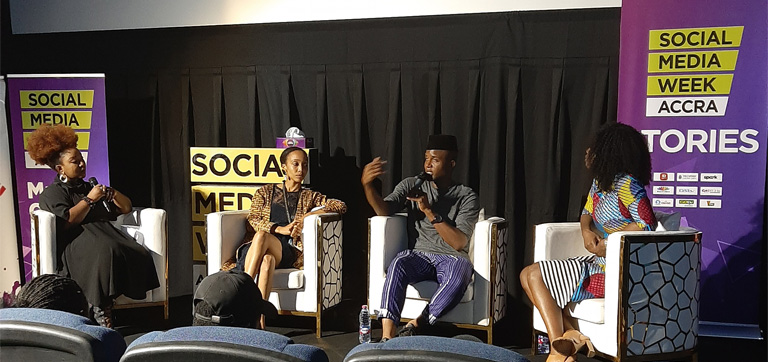 Eli Tetteh, also a professor at Webster Ghana, joined the news crew of Citi FM for an hour-long dialogue on "Social Media and News Reportage." Alongside Citi FM's Bernard Avle, he addressed the responsibility of media, politicians and civil society in an era of fake news and online shaming. He impressed on event attendees the individual power we all have in what we share, in fact-checking to combat misinformation and in choosing truth over sensationalism and virality. Webster Ghana undergraduate students shared on the variety of their student experiences, including "My Ghanaian Story" and how Webster's international faculty rotation and Study Abroad opportunities, have shaped their global perspectives.
This stellar involvement for the Ghana campus was a great lead-in to the next Public Lecture "Social Media in the 21st Century" to be held on Oct. 23, where a panel of lecturers and experts will engage an audience on the impact social media has on mental health, business and social movements around the world. Click here to register today.